This page is for the 2013 festival: 2014's festival (BACAFest) is Oct 3-5. Come join us!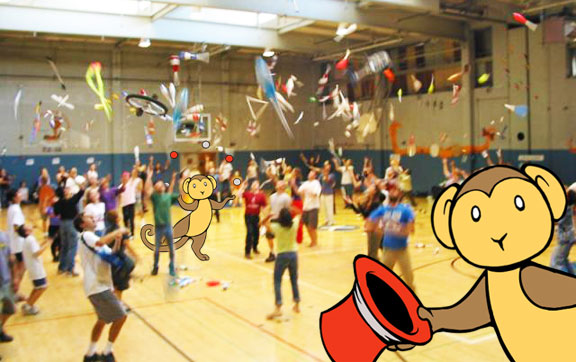 The eighth edition* of the premier Bay Area gathering for jugglers, unicyclists, aerialists, object manipulators, artistic athletes, acrobats, and performers of all kinds is migrating across the estuary, to Alameda High School, a great venue with space for all kinds of activities.
As always, the festival is FREE, open to the public, and family-friendly. Whether you're a master manipulator, or are interested in learning how to start tossing three balls, this is the place for you! Join us, October 4-6.
What's in it for YOU?
Jugglers:  Solo and multi-person, beginner through advanced club and ball juggling workshops all day every day.  Juggling competitions on Sunday!
Unicyclists:  Unicycle basketball games, uni Tug-of-War, mountain unicycle rides, party rides, etc.
Aerialists: A 26 foot free standing aerial rig (plus other shaded rigging points), static trapeze, silks, and more.  Signup is required for aerial workshops – proper stretching and instruction will be given before access to aerial props is allowed.  (Every attempt will be made to ensure safety but all aerial is at your own risk.)
Hoopers: Workshops and come join us for a groovin' hoop jam on World Hoop Day (Saturday, Oct 5)! 
Other Circus Artists:  Workshops on poi, whip cracking, ball spinning, crafting balloon animals, staff spinning, card tricks, and more!
Uncoordinated enthusiasts:  Learn to juggle, learn to ride a unicycle, recess time (adult) kickball game, watch REALLY skilled people do all this stuff, and make some new friends!
Come see the Circus Arts Show ("Art in Motion") on October 5!
* Formerly known as the Berkeley Juggling and Unicycling Festival. Same organizers, new location, even more fun!